Embracing Your Personal Power for Empowering Health and Nutrition in Plants and Animals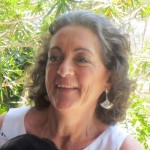 Linda Murray lives in Australia after migrating from NZ. A life spent with animals through farming, working in teaching and training, as well as large construction sites has given her a wide variety of skills and stories. These stories are also part of the technique she uses to teach confidence in recognizing and tapping into messages you receive day to day. These messages can be brought through thoughts, your pets, or events throughout your day. Linda teaches the choice of earth-friendly ways and energies for step-by-step human and soil nutrition for health and vitality. Healthy soil is our legacy, our lifeblood and conduit to health.
www.carbiculture.com is her knowledge hub.
.

You can also listen to the replay at http://iTeleseminar.com/77309283